International Cadet Class 2023 World Championship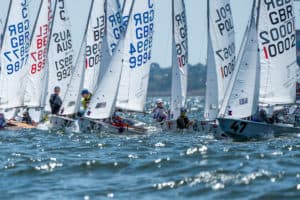 From 20 to 28 July, the Cadet Class Belgium, the yachting dept of the royal air force, and the City of Nieuwpoort will receive the best junior sailors from all continents in one of the most iconic one design class boats in the world: the Cadet two-seater.
The Cadet-class opts for North Sea challenges
Because the Cadet class is active in more than 20 countries around the world as the step-up boat in which future sailing champions are formed, it is a great honor for our country to be able to organize this World Championship. The reputation of Nieuwpoort as a sailing resort naturally precedes this.  For many sailors between 7 and 17 years, but also their coaches and talent scouts, the North Sea is an excellent and challenging competition water.
Moreover, both the activities and the infrastructure of the Watersportkring van de Luchtmacht (WSKLuM = yachting dept of the Royal Air Force) and the vicinity of Nieuwpoort have been the deciding factor in holding this prestigious sailing championship here. The Belgian division of the Cadet class is also one of the most active national class authorities in Belgium and abroad. The interaction with other national Cadet teams increases the incentive to come and sail for the world title on the North Sea, with its pronounced weather, wave and wind character.
Five-day spectacle of international sailing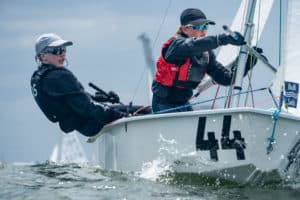 The organization expects about 100 boats. In addition to strong delegations of 7 boats per country, teams from Ukraine will be encouraged to join. As an organising country, Belgium may enter 10 boats. The selection events, to be able to compete in the national Belgian team, start in April. Meanwhile, a tough group of Cadet sailors trains on inland water in a.o. Antwerp, Ostend and Zeeland. The preparation phase for the Belgian Cadet sailors develops into the World Championship mode after the last selector, the popular Nieuwpoortweek (1 to 5 July 23) of which the winner will be Belgian National Champion. 
The clash of promising sailors
Nathalie Gunst, the president of the Belgian National Cadet Class Association, believes that the Belgians have a good chance of finishing on the podium of the World Championship. "Our organisation can rely on the parents, but also the coaches and trainers who have been jacking up the sailing talents of these boys and girls for a long time," says Gunst, who herself has quite a few sail races under the keel. "The Cadet may be a youth boat, but don't forget that top helmsmen such as Count Jacques Rogge sailed their first medals in this boat. The list of Olympic sailors who started in the Cadet is very long. (+) Nieuwpoort has also had an excellent reputation for competitive sailors in this type of open sports boats for many years." .
Registrations for International Cadet Class 2023 World Championship are open. CLICK HERE