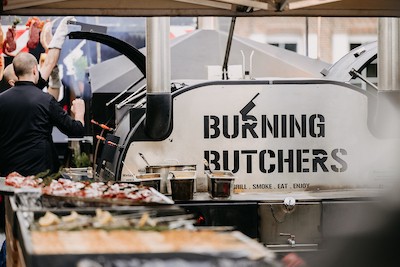 We know it might be difficult to book restaurants in Nieuwpoort during the holiday season. Therefore, we decided to help.
Please read the following carefully:
On 3 dates we organize a fun & easy diner at the venue.
21st July: Belgian Fries
25th July: High Level BBQ – Street Food – Burgers
27th July: Italian Pasta
Reservations will close 1 week prior to the diner.  This means we will need you to book your diner no later than:
Belgian Fries: 14th July
Street Food: 18th July
Italian Pasta: 20th July
We do realize that some of you might not have arrived in Nieuwpoort by then, hence the importance of booking prior to traveling.
To book your tickets, please order on our website: https://www.cadet2023.com/product-category/food-drinks/
In case you have any difficulties, just e-mail to: orders@cadet2023.com
Once reserved you will receive a confirmation via email.
We tried to keep the prices as democratic as possible because most of all we love to see you all to celebrate the uniqueness of the Cadet Class.
Booked tickets will be given during the registration process at the Sailors Hub a.k.a. the tent.
During the day a selection of snacks will be available at the tent (Toast, Panini, …)